10 Great Sites for Finding College Scholarships
Finding college scholarships is a frustration that many parents and their students face when looking to win money for school. There are SO many scholarship sites on the internet. Which ones can you trust and which ones are the best scholarship websites?
 >>> This is where the COLLEGE SCHOLARSHIP MAGIC begins. Click here now <<<
Are you having trouble finding scholarships? There are many wonderful websites available for parents and their students who are trying to compile a scholarship list.
Below are what I consider to be the best scholarship websites. Many of these are scholarship matching sites, meaning they will email students when a scholarship is found for them to consider applying for.
Before signing up, however, I highly suggest doing the following:
1. Set up a new, smart email to be used only for scholarship and college correspondence. For example, firstname.lastname@gmail.com. If the preferred email is already taken, simply add a number or other symbol, such as firstname-lastname@gmail.com or firstname.lastname7@gmail.com.
2. Fill out student profiles 100%, leaving no blank spaces or unchecked boxes.
3. List all possible majors for more scholarship matches. If a student is unsure of what they would like to major in, they need to check the boxes for everything that interests them.
4.  Update information yearly or as it changes, as different scholarships are offered for different levels of students.  Also, more matches may occur as students join clubs, volunteer, learn new skills, and take part in different activities.
You may also like Finding an Advantage for College and Scholarships
Here are the best scholarship websites:
Unigo.com
Fastweb.com
Cappex.com
Scholarships360.org
Petersons.com
Scholarshippoints.com
Scholarships.com
SallieMae Scholarship Search
Studentscholarships.org
Collegeboard.org
Update: Check out the Superb New College Scholarship Search Tool from TUN!
I also highly recommend this site as a wonderful source of finding scholarships for college.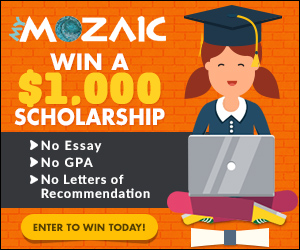 Compiling a list of scholarships for students to apply for is one step in getting closer to winning them, but what really matters is HOW the application is submitted and what can be done to set it apart from the thousands of other applications.
Click here to learn what scholarship judges like and read about how I helped my son win over $100,000 in scholarships and graduate from college 100% debt-free. It's true!
Need help finding college scholarships?

I would love to share my winning strategies with you!

CLICK HERE TO LEARN HOW YOU CAN IMMEDIATELY DOWNLOAD HOW TO WIN COLLEGE SCHOLARSHIPS
Here are 10 GREAT sites for finding college scholarships Click To Tweet
Related:  How to Find Scholarships Using Twitter

jjjjjj
BONUS
: Get your FREE download of my 10 BEST COLLEGE SCHOLARSHIP TIPS that will show you how to find scholarships and win more money for school by

clicking here

now.
For college expenses not covered by scholarships and federal loans, how2winscholarships has partnered with Sallie Mae® to bring you loans with great repayment options and competitive rates. 
Click here

to apply and learn more details. To instantly compare student loan rates without any commitment,

click here